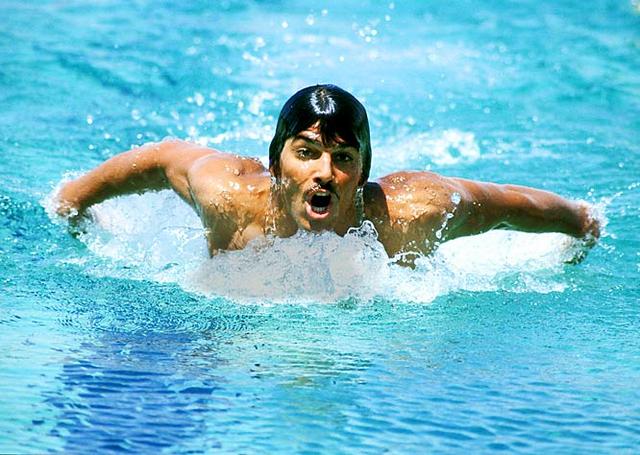 Early life
Spitz was born to a Jewish family in Modesto, California, the first of three children[2] of Arnold and Lenore Smith Spitz. When he was two years old, Spitz's family moved to Hawaii where he swam at Waikiki Beach every day. "You should have seen that little boy dash into the ocean. He'd run like he was trying to commit suicide." Lenore Spitz told a reporter for TIME (April 12, 1968).[2] At age six his family returned to Sacramento, California, and he began to compete at his local swim club. At age nine, he was training at Arden Hills Swim Club in Sacramento with Sherm Chavoor, the swimming coach who mentored him and six other Olympic medalwinners.
Before he was 10, Spitz held 17 national age-group records, and one world record. At 14, his family moved to Santa Clara so Spitz could train with George F. Hainesof the Santa Clara Swim Club. From 1964 to 1968 Mark trained with Haines at SCSC and Santa Clara High School. During his four years there, Mark held national high school records in every stroke and in every distance . It was a remarkable and unprecedented achievement. In 1966, at 16, he won the 100 meterbutterfly at the National AAU Championships, the first of his 24 AAU titles. The following year, 1967 Mark set his first world record at a small California meet, in the 400 meter freestyle, with a time of 4:10.60, and emerged on the world swimming stage.[3]
[edit]
Maccabiah Games
The 1965 Maccabiah Games was his first international competition. At the age of 15, in Tel Aviv, Spitz won four gold medals and was named the most outstanding athlete.[2]
He returned to Israel in 1969, following the Mexico Olympics, to again compete in the Maccabiah. This time he won six gold medals.[4] He was again named outstanding athlete of the Games.[5]
In 1985, Spitz lit a torch to open the Maccabiah games.[6]
In 2005, he was a member of the U.S. delegation at the 17th Maccabiah Games.
In 2005, he spoke at the JCC Maccabi Games Opening Ceremonies, which was held in Richmond, Virginia. The Weinstein JCC in Richmond was one of the Host JCC's for the 2005 games with over 1,000 teenagers participating in various sports, including swimming.
[edit]
Pan American Games
In 1967, he won five gold medals at the V Pan American Games in Winnipeg, thereby setting a record not surpassed for 40 years until Brazilian swimmer Thiago Pereira won six golds at the XV Pan American Games in Rio de Janeiro in 2007.
[edit]
1968 Olympics
Holder of 10 world records already1968 Summer Olympics in Mexico City. However, he won only two team golds: the 4 x 100 meter freestyle in 3:31:70, and the 4 x 200 meter freestyle relay in 7:52:33. In addition, Spitz finished 2nd in the 100 m butterfly in 00:56:40. In this event he was beaten by fellow American Doug Russell by 1/2 a second, despite holding the world record and having beaten Russell in the previous 10 times they had swum against each other in that year.[7] Russell did briefly match Spitz's world record in late August 1967, holding the world record equally with Spitz for five days before Spitz regained it solely on October 2, 1967. As a result of being beaten by Russell, Spitz did not get to swim in the 4 x 100 meter Medley Relay which gave Russell his second Gold medal and the USA team another World Record swim.
, Spitz predicted brashly he would win six golds at the 
[edit]
College training
Disappointed in his /1968_Summer_Olympics" title="1968 Summer Olympics" style="text-decoration: none; color: #002bb8; background-image: none; background-repeat: initial; background-attachment: initial; -webkit-background-clip: initial; -webkit-background-origin: initial; background-color: initial; background-position: initial initial;">1968 Olympic performance, Spitz entered Indiana University to train with legendary coach Doc Counsilman, who was also his coach in Mexico City. While at IU, Spitz won 8 individual NCAA titles. In 1971, he won the James E. Sullivan Award as the top amateur athlete in the United States. Spitz also set a number of world records during the U.S. Olympic Swim Trials held in Chicago's Portage Park in 1972.
He was nicknamed "Mark the Shark" by his teammates.
[edit]
1972 Olympics
At the 1972 Summer Olympics in Munich (West Germany), Spitz was back to maintain his bid for the six gold medals. He did even more, winning seven Olympic gold medals. Further, Spitz set a new world record in each of the seven events (the 100 m freestyle [00:51:22], 200 m freestyle [01:52:78], 100 m butterfly [00:54:27], 200 m butterfly [02:00:70], 4 x 100 m freestyle relay [03:26:42], 4 x 200 m freestyle relay [07:35:78] and the 4 x 100 m medley relay [03:48:16]). Originally Spitz was reluctant to swim the 100m freestyle fearing a less than gold medal finish. Minutes before the race he confessed on the pool deck to ABC's Donna de Varona, "I know I say I don't want to swim before every event but this time I'm serious. If I swim six and win six, I'll be a hero. If I swim seven and win six, I'll be a failure." Spitz won by half a stroke in a world-record 51.22.[8]
Spitz is one of five Olympians to win nine or more career gold medals: Larissa Latynina, Paavo Nurmi and Carl Lewis also have nine;[9] only swimmer Michael Phelps has won more with 14. Spitz's record of seven gold medals in a single Olympics was not surpassed until Michael Phelps at the 2008 Beijing Olympics.
Spitz was evacuated from Munich when 11 athletes and officials from Israel's Olympic team were kidnapped and later killed by Palestinian terrorists. Officials were worried that Spitz might be targeted because of his Jewish heritage. He had already finished his competition.
[edit]
Retirement
Following the Munich Olympics, even though he was still only 22, Spitz retired from competition.
In 1999, Spitz ranked #33 on ESPN SportsCentury 50 Greatest Athletes, the only aquatic athlete to make the list.