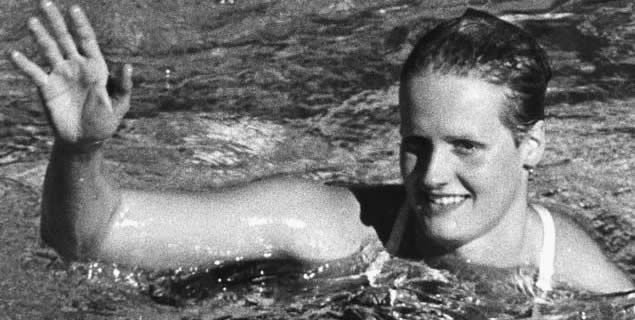 Kristin Otto (born 7 February 1966 in Leipzig, East Germany) is a German Olympic swimming champion. She is most famous for being the first woman to win six gold medals at the 1988 Seoul Olympic games.
Kristin Otto began swimming at 10 years old, she was trained in an East German sports academy. At 16 years of age she participated in her first world championships in Ecuador 1982, she won the gold medal in the 100 meter backstroke, along with two additional gold medals in the 4×100 m relays with the East German team.
After the 1982 world championships Kristin Otto changed coaches and she began concentrating on other speed strokes. At the following European Championships in 1983, Otto finished second in the 100 meter freestyle, behind fellow East German Birgit Meineke.
In 1984, Otto set a world record in the 200 meter freestyle. She was expected to win gold medals at the 1984 Los Angeles Olympic games, but was one of the many eastern bloc athletes denied their moment to shine. Things only became worse for Kristin, in 1985 she fractured her vertebra which caused her to be inactive in swimming for most of the year and she was unable to attend the European Championships.
Otto returned to swimming with a magnificent showing at the 1986 World Championships in Madrid. At those world championships she won 4 gold medals (100 m freestyle, 200 m individual medley, 4×100  medley relay and 4×100 m freestyle relay) and 2 silver medals (50 m freestyle, 100 m butterfly). Her success continued the following year at the 1987 European Championships where she won 5 gold medals.
At the 1988 Seoul Olympic games she once again was expected to win Olympic gold. This time she was able to achieve her Olympic dream.
Otto ended her swimming career in 1989. She works as a sports reporter for German television.
She was named the Female World Swimmer of the Year in 1984, 1986 and 1988 by Swimming World magazine.
Her career was marred by the revelations of widespread performance enhancement drugs use by East German athletes: former teammate Petra Schneider openly admitted that she had used banned substances. However, Otto stated that she was not aware that she was being doped, saying: "The medals are the only reminder of how hard I worked. It was not all drugs."[1] Her former teammate, now a general surgeon, Birgit Meineke has commented publicly about the procedures utilized by the East Germans.[2]